Key points on how to find influencers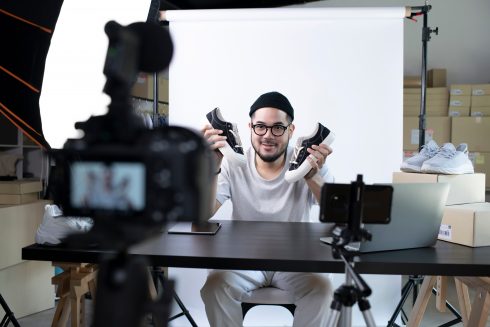 Introduction
Hello. My name is Sakamoto, and I am a consultant.
In this column, I would like to introduce some points to consider when looking for influencers.
Importance of Social Listening
●What is social listening?

Social listening is the process of monitoring social media mentions and discussions, trends in topics, user sentiment and opinions. In addition to social media, listening to reviews and blog opinions on the e-commercewebsite, as well as community sites in specific communities can be important when looking for influencers.
Demand for Social Listening

Searching for your company's brand name, competitor's brand name for similar products, or product category on social media or e-commercewill display various posts and reviews, from which it is possible to obtain various insights. By reading reviews on social media, review sites, etc. for your company's products and similar competitive products, you can gather insights such as target characteristics, TPO at which the product is used, product features that are in demand, product features that are not in demand, what users look for when purchasing, dissatisfaction with similar products, and pro-cons of products purchased, etc. The information can be used to collect insights on which features are important to the user. This information will give us an idea of what kind of characteristics to look for in influencers.
● Examples of what we have done

For example, when we conducted competitive social listening for a certain ice cream in an overseas market, we found that "slightly health conscious people" were eating similar ice cream. We were able to gather insights as to why: "it makes me hungry," "I feel less guilty because it is less sweet," and "it has less sugar than other types of ice cream when compared. In Japan, we rarely heard such opinions about this similar ice cream, but overseas, there were many such opinions, and we were able to obtain unexpected insights. Therefore, although we originally targeted consumers in their 20s, we also promoted the "ice cream with less guilt" and "less sweetness and less guilt" to consumers in their 30s, which was highly appreciated.
Points to consider when manually searching
How to search manually

Search for keywords on Instagram, YouTube, local Social media, etc. (e.g., "#camp" or "#campandbeer" if your target audience is camping enthusiasts)
Decide on a target number of followers and engagement numbers, and then excerpt those who meet those target numbers. The key is to look at engagement numbers. There are different ways to do this, but if you are doing it manually, look at the engagement (i.e. comments, shares, likes! etc.) of the last 30-50 posts to see how many people are responding per post. Then, based on the hypothesis of how many people will see it and how many will buy it, we determine how many engagements we need to get. This allows us to calculate how many influencers we need to ensure how many engagements. Naturally, this number is difficult to calculate at first, so start small with micro-influencers, nano-influencers, etc. to understand "how many engagements you need to secure" by implementing an influencer program at first.
We will look at the social media pages of the selected influencers to see if the influencers are a good fit for the characteristics of our product. For example, if your target audience is a camping enthusiast, but especially if people who drink alcohol while camping tend to like your product, you can choose an influencer who posts a lot of photos of beer while camping.
Look at the social media pages of the selected influencers and see the percentage of engagement. For example, if there are a lot of comments, you can predict that people are watching the post closely, if there are a lot of shares, the post is more likely to be spread, etc.
Influencers are selected by looking at the social media pages of selected influencers and analyzing whether they have introduced products in the past and what their reactions have been (e.g., many positive comments about the advertised product).
The influencer is approached, the details of the policy are explained, terms are negotiated, and a contract is signed.
Influencer policies are implemented and payments are made to influencers.
● Points to consider when searching manually

Create an official Social mediapage: If you do not use a platform or agency, you will need to communicate with the influencer yourself. At that time, if you contact the influencer with your personal Social mediaaccount, the influencer may not trust you, so you should create an official Social mediapage, increase your followers (even employees are fine as long as you have a certain number), increase your posts, and contact the influencer with the official Social media Recommendation.
Organizing conditions: If you are searching manually, you will need to negotiate conditions with the influencer yourself, so it is important to organize and communicate these conditions to the influencer. Common conditions are listed below.

A. Where (e.g., Instagram), how often and what (e.g., Stories introducing products) the influencer will post, B. Amount, C. Schedule, D. What you do not want the influencer to do (e.g., compare with other companies), E. What you want the influencer to post before Do you confirm the content of the influencer's postings? If so, how many times will you confirm and will the influencer need to revise the content of the post?
Prepare a contract: While we believe that influencer programs offer numerous benefits and are essential marketing initiatives, we recommend that you prepare a contract first because of the many unpredictable aspects of the program.
● Advantages when searching manually

You can find and select influencers in detail.
You may be able to maintain a relationship with the influencer and ask them to participate in future initiatives.
∙ Financially, it may be cheaper than platforms or agencies.
Disadvantages of manual search

-It takes time.
・If the brand is not well known, the conditions being offered are poor, or the communication is poor, the influencer may not respond to your call.
∙ You will need to implement communication with the influencer in the local language.
You will need to prepare a contract in the local language.
What to look for in search tools
● How to use search tools to find them

There are a number of influencer search tools available to help you find influencers. Since different tools can and cannot do different things (e.g., you can search for influencers with the tool, but you cannot contact them within the tool), please make sure you understand the tool's functionality before choosing a tool. Basic search tools allow you to enter specific keywords (e.g., food) or media (e.g., Instagram) and will show you influencers that match your search criteria. Many search tools will display engagement rates, so you can select influencers by looking at the number of followers and engagement rates to see how effective they are (i.e., how many people are likely to respond).
● Points to consider when searching with the search tool

First of all, it is recommended that you conduct a manual influencer search. The reason for this is that the issues you face when you manually implement influencer programs will determine which search tool you should use. For example, if the issue is that many influencers did not respond to your manual influencer program, you should choose an influencer search tool that also allows you to communicate within the tool.
You should choose a search tool based on your understanding of how effective the influencer program is and how often you will be implementing influencer programs. The reason is that many search tools cost money and many search tools have one-year contracts.
● Advantages when searching with the search tool

The time spent searching for influencers is likely to be reduced.
If you use a search tool that allows you to communicate with influencers within the platform, the response from influencers tends to be higher than if you search for influencers manually.
If you can pay influencers within the search tool, it will save time in operations.
It may be possible to maintain relationships with influencers.
Disadvantages of using search tools

It costs money to use the search tool.
It is often difficult to find influencers with detailed criteria.
It is necessary to communicate with influencers in the local language.
It is necessary to prepare a contract in the local language.
What to look for when using an agency
● How to find an agency
Search the Internet to find an agency that has an influencer program in a specific market (e.g., the U.S.). For special products (e.g. supplements), it is recommended to find an agency with many examples of that product.
Points to keep in mind when searching for an agency

Prepare an RFP. Organize the purpose, amount, duration, product features, what kind of influencers you are looking for, etc., and talk with the agency after you have prepared the RFP.
Conduct social listening. It is best to ask the agency for advice on what kind of influencers you should hire, but it is dangerous to take their advice on faith.
...Hear the minimum fee. Some agencies require a minimum of XXXX yen to be invested, so first ask about the minimum fee.
Advantages of searching with an agency

Time savings.
You do not need to communicate with influencers in the local language, draw up contracts in the local language, etc.
The agency may have knowledge of which influencers are best suited for your product.
The agency may be able to advise you on how many influencers to use and how much engagement, size, and number of influencers to use.
● Disadvantages when looking for an agency.

▪ Financial costs may be high.
・If minimum fees are high, it may be difficult to start small.
It is difficult to maintain a relationship with influencers.
Key points of the overall influencer policy
Importance of the Brief: Since many influencers are reluctant to pre-confirm content, and even if content is pre-confirmed, they may leave the project if there are too many revisions, it is important to write as solid a brief as possible and present it to the influencer for agreement before implementing measures. It is important to write as solid a brief as possible and present it to the influencers prior to the measure for agreement.
Key point for conditions: Only offer high priority conditions, as too many conditions, especially overseas, will reduce the number of influencers who want to participate in the project.
Stealth Marketing: Stealth marketing is prohibited in many countries, so it is important to make it clear to influencers that the promotion is a promotion when implementing influencer initiatives.
Legal: In some countries, it is prohibited to have influencers say specific appeal points such as "XXX is good," and influencers themselves may find your product good, so we recommend that you do not provide too many requirements for appeal points and that the brief clearly states what you believe are your company's strengths. It is recommended that you clearly state what you believe to be your company's strengths.
Secondary use of content: You need to decide if you want to make secondary use of the influencer's posts. The advantage is that user content is credible to buyers both as advertising and as content, and often improves numerical performance, such as click-through rates on ads. The disadvantage is the additional cost and the fact that influencers may not like it.
From a small start PDCA: Influencer initiatives have the potential to be very effective, but on the other hand, they are often difficult to predict (e.g., predicted effectiveness, influencer response rates, and what kind of content influencers will post), so it is recommended to start small, implement from a small start and accumulating knowledge is recommended. It is recommended that influencer initiatives be considered not as a one-off measure, but as a measure that can be improved and implemented over the long term.
Summary
As mentioned above, understanding how to find influencers and making the most of these opportunities will help you achieve business growth. In addition, while influencer programs can be effective, they are a marketing program that is difficult to predict in many ways, so it is important to implement them with a long-term perspective.
Achieve results with "minimum investment and effort."
Cross-Border EC one-stop for services.